In just 12 months, John and Christine Peggau have covered 24,500 miles in their 2019 Airstream Interstate Nineteen – that's an average of a little over 2000 miles each month or approximately 9 trips from coast to coast – and these two are still maintaining full-time employment.
To log those miles, more than 65 nights have been spent in the 19-foot RV. These two not-yet-retired, empty nesters take their Airstream out every chance they get.
Reasons number one, two and three that John says he enjoys the time in their motor home: his wife. With a mutual respect for one another, the two work in tandem dividing up chores and appreciating the other's contributions.
"We like each other and we like to spend time together," John said. "The close proximity of a 19-foot vehicle is not a problem at all."
In fact, they intentionally selected a model on the smaller side so their three grown children wouldn't get any ideas of tagging along for their awesome adventures.
"We wanted something for two, so the kids weren't invited," John laughed.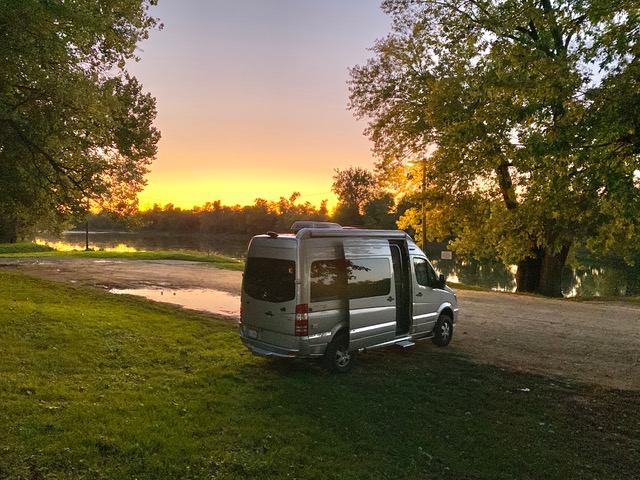 They also had three very specific criteria for choosing their campervan. Fitting into regular parking spots and navigating national parks was a priority, so it had to be less than 20 feet. Four-wheel drive was also a must so they could traverse dunes and places like Death Valley. At just under 6' 5" tall, John said the size of the sleeping quarters was a factor. Finding a small vehicle with a large bed meant John researched mattress size, charting them out on his floor to see if they were large enough for him to fit comfortably.
While the name isn't official yet, they call it "the cabin."
"It's the cabin on the lake, river, beach, woods mountains," John said. Seeking out beautiful sights fuels John's photography hobby, too.
Discovering little known places unique to their off-the-beaten-path travels keep these Midwest natives venturing out. A rock and mineral museum in a small house in Kentucky contained glow in the dark gems. In Wisconsin they visited the spot in the road where part of a Russian spacecraft crashed in 1962.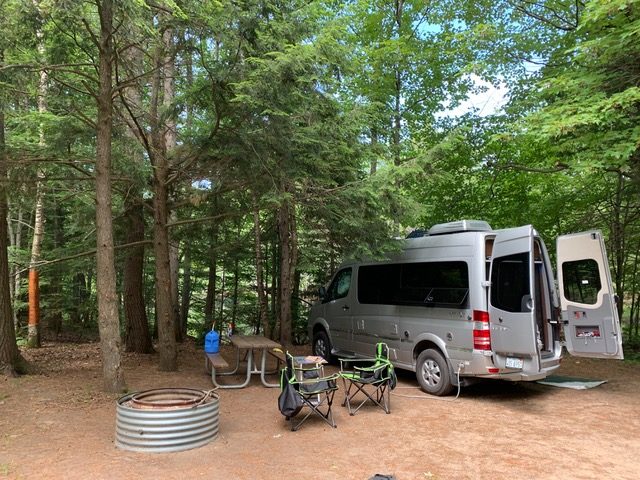 "We like the kind of weird little things that you would never learn about," John remarked. "And sometimes we have nothing directly in mind. We just stay where we are and see what is there to do around there. We are very curious travelers."
The two prefer boondocking and aim to be off the grid 100 percent of the time.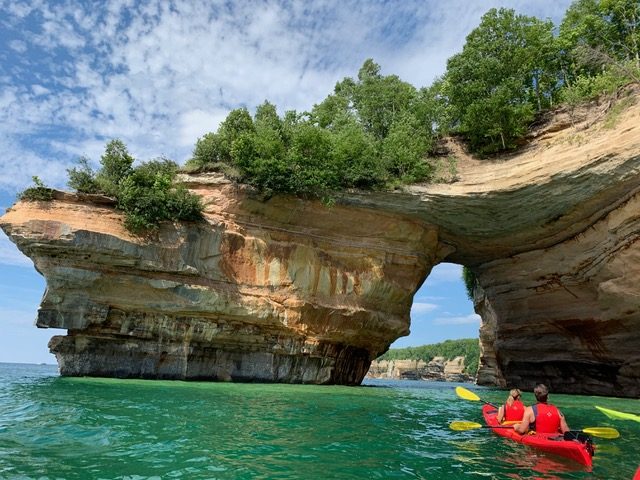 "It's relaxing," John commented, describing his wife as "giddy" once she climbs in and shuts the door because she knows another new and exciting adventure lies ahead. "And disconnecting is important. Sometimes you have no choice. Even with a cell booster, you can't check emails, so you just spend time together with your spouse and best friend."
The pursuit of adventure is never-ending. Read on in the #LiveRiveted blog.